09/24/2020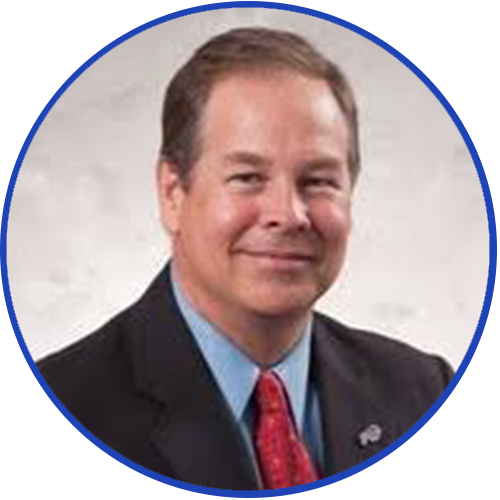 "Partnering with TEAM Coalition on these important initiatives that promote positive, safe and responsible fan behavior has literally helped us reduce the number of incidents at our games, and has made the Fan Experience at Bills Stadium more enjoyable for all of our valued fans. 
From the team member training to the safe ride home and designated driver programs, the Bills, TEAM Coalition, the NFL, and our great fans have collectively made some tremendous strides to enhance the Fan Experience." 
— Andy Major
Vice President Operations & Guest Experience, Buffalo Bills
BUFFALO BILLS AT BILLS STADIUM
All the reasonable efforts incorporated into a solid alcohol management program.
The Buffalo Bills and their venue partners at Bills Stadium have embraced every item on the reasonable efforts list that TEAM Coalition shares at Instructor Development Program (IDP) workshops. From employee training to fan engagement to coordinating efforts with local law enforcement and the state liquor authority, if it encourages positive fan behavior and it discourages drunk driving, then the Buffalo Bills are all over it.
COMMITMENT TO TRAINING
Since 2007, the year the Buffalo Bills first embraced TEAM training, the Bills have won annual awards from TEAM Coalition for prestigious achievement, defined as certifying 90% or more of the entire roster of game day employees in TEAM's alcohol management training program. That accomplishment is matched among NFL teams by only one other, the Bills division rival the New England Patriots.
In the last thirteen years, a total of 23,374 employees have become TEAM certified at Bills Stadium. Not only do the Bills certify their employees in TEAM training, but also they encourage their venue partners, past and present, to do the same. Those partners that embrace employee training in alcohol management have included Delaware North Sportservice, AllPro Parking, security staffing companies and the facilities cleaning vendor as well.
FAN ENGAGEMENT TOPS THE NFL
POSITIVE CULTURE CHANGE TAKING PLACE AT BILLS STADIUM WITH STAFF & FANS
In 2019, the Bills received 29,423 pledges from fans promising to prevent drunk driving by either having a designated driver or being a designated driver. That number was a new record for the Bills, and it earned them the top spot for most responsibility pledges among all NFL teams last season.
In 2012, the Bills became even more committed to promoting responsible fan behavior by including their game partners in their game operations preparedness/planning and by strongly encouraging positive and constructive feedback from all their game day staff.  This teamwork and collaborative approach created a positive culture change among the game day staff and has proven successful with the drastic reduction in the number of fan behavior incidents.
The Bills have taken this similar approach with their fans by creating a Fan Advisory Board, encouraging fan feedback, and promising fans that the team will answer all questions and address all concerns in an efficient and very timely manner. With the help of the game day team members and fans alike, last season the Bills had their all-time low number of fan behavior incidents.  Their "One Family Bills Together" marketing theme further shows the loyalty, pride, passion, and generosity that Bills staff and fans have for their team and their community.  The Bills fan responsibility efforts and mission ties perfectly to the TEAM Coalition messaging and programming!
After watching the Miami Dolphins beat the New York Jets for two straight seasons in a head-to-head battle called the Bud Light Good Sport Designated Driver Challenge, the Bills joined in 2013. And they preceeded to dominate their AFC East division rivals for five straight seasons.
From 2014 to 2017, TEAM Coalition administered the Responsibility Bowl – a league-wide bracketed competition pitting NFL teams in head-to-head match-ups with point totals calculated based on counts of fans who pledged to be designated drivers in-stadium combined with social media activity in response to posts about the competition. Every year, the Bills and their fans reigned victorious, only adding evidence to their commitment to responsibility.
BUFFALO BILLS PARTNERS IN RESPONSIBILITY
BUD LIGHTNFLMADD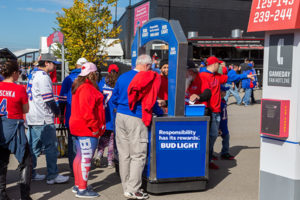 "All of our colleagues take great pride in promoting responsible drinking, as we have done for more than 35 years and the Responsibility Has Its Rewards program is a great way to remind fans to both enjoy responsibly and have a safe ride plan. Our partnership with the Buffalo Bills, the NFL, TEAM and the great fans at Bills Stadium displays our collective responsibility to help keep our roads safe." 
— Adam Warrington
Vice President Corporate Social Responsibility, Anheuser-Busch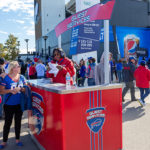 "The positive contributions made by TEAM are far reaching. Its mission is important to fans and spectators in stadiums, but its message also contributes to responsible conduct in our communities at large. The NFL strongly supports the TEAM program, and we are proud to be a member of the TEAM Coalition." 
— Roger Goodell
Commissioner, NFL
"For the past seven years Mothers Against Drunk Driving has teamed up with the Buffalo Bills at every home game with our volunteers manning the Designated Drivers booth. The MADD volunteers talk with fans about Signing a pledge to be the Non drinking designated driver for their group at the game. In return they receive a non alcoholic beverage. It's been a great partnership with the Bills and we hope to return next season."
—Rich Mallow
State Executive Director of New York/New Jersey, MADD
In TEAM trainer workshops we often describe the hypothetical utopian venue in which every alcohol management reasonable effort is implemented – from training all employees representing all organizations operating in the facility, aggressively promoting the responsible fan/designated driver program, implementing strict alcohol service policies and engaging key partners like MADD to encourage fans to be safe and law enforcement to remind fans of the consequences if they violate facility policies.
The Buffalo Bills at Bills Stadium are the rare example of a venue making that hypothetical utopia a reality.Jill Kiefer, Executive Director, TEAM Coalition
US DOT / NHTSA 2018 NATIONAL DATA:
In 2018, 10,511 people were killed as a result of alcohol-related (BAC > 0.08) car crashes, an decrease of 3.6% from the 10,908 fatalities in 2017.
Many, if not most of those lives would have been saved if people did not drive when they were impaired by alcohol or if they used sober, designated drivers or if they simply wore their seat belts.
Statistics and research clearly show that 21-34 year old males are the demographic most likely to be involved in an automobile crash, drive when impaired by alcohol, and fail to buckle up.