02/04/2019
TEAM Coalition proudly joined forces with the National Football League in support of the national Responsibility Has Its Rewards (RHIR) campaign all season long and specifically at the 2019 Pro Bowl in Orlando, Florida on Sunday January 27, 2019 and Super Bowl LIII in Atlanta, GA on Sunday February 3, 2019. Throughout the 2018 NFL season, TEAM Coalition and Bud Light worked with the NFL to offer fans the opportunity to pledge to be responsible – a responsible drinker with a plan to get home safely without driving drunk or a designated driver. At the end of the regular season, each NFL team selected one fan to be the Responsible Fan for the 2018 Season.
265,940 fans across the league participated in this life-saving program during the 2018 regular season. The Responsible Fans for the Season representing the New England Patriots – Kristina Forsyth – and the Los Angeles Rams – Samantha Morales – attended Super Bowl LIII compliments of TEAM Coalition and the NFL as the grand prize winners of the Responsibility Has Its Rewards sweepstakes.
At Mercedes-Benz Stadium, 533 NFL fans pledged to be responsible fans at the MADD designated driver booths during Super Bowl LIII. Responsible fans are over 21 years of age, and they pledged to prevent drunk driving. All responsible fans who took the pledge were awarded a lanyard ticket holder branded with MADD and TEAM Coalition.
5,669 fans pledged to prevent drunk driving and promote traffic safety and positive fan behavior at the Super Bowl Experience. The event ran for eight days leading up to Super Bowl LIII. Each day, fans had a chance to fold their own finger flick football and flick a field goal. Fans smiled for souvenir photos sent via email or text after flicking their field goals. The 2,549 photos were viewed 5,164 times, an average of 2 views per photo.
The daily winner for the longest field goal won a Mattel old-school hand-held, electronic football game. And a daily a random winner received a prize pack of Super Bowl gear, a Lyft gift certificate and a copy of Madden 19 Hall of Fame Edition.
The RHIR sweepstakes first prize was awarded to the Designated Driver for the Season from the Tennessee Titans – Randy Scott. Mr. Scott won a trip for two to the 2019 Pro Bowl in Orlando, FL.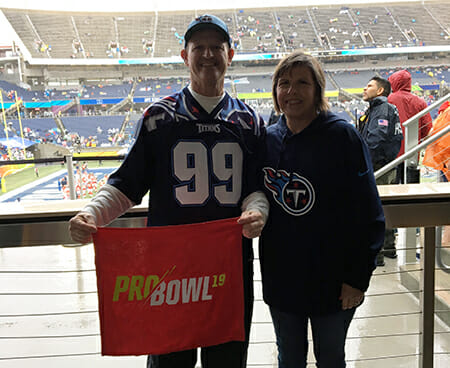 The positive contributions made by TEAM are far reaching. Its mission is important to fans and spectators in stadiums, but its message also contributes to responsible conduct in our communities at large. The NFL strongly supports the TEAM program, and we are proud to be a member of the TEAM Coalition.
Roger Goodell, Commissioner, National Football League
All of our colleagues take great pride in promoting responsible drinking, as we have done for more than 35 years and the Responsibility Has Its Rewards program is a great way to remind fans to both enjoy responsibly and have a safe ride plan. Our partnership with NFL, TEAM and the great fans at Super Bowl LIII at Mercedes-Benz Stadium displays our collective responsibility to help keep our roads safe.
Adam Warrington, Vice President, Corporate Social Responsibility, Anheuser-Busch
Whether you're lucky enough to watch the game live in Atlanta or with friends or family closer to home, the most important thing you can do is designate your non-drinking driver before you leave home, whether it's a taxi, a bus, public transportation or Uber. It's so simple. If you drink don't drive. If you drive, don't drink.
Helen Witty, MADD National President
Teamwork is exactly what this organization is all about. Through the Responsibility Has Its Rewards sweepstakes, we are demonstrating that when everyone – including the fans – takes responsibility, everyone wins.
Jill Pepper, Executive Director, TEAM Coalition
US DOT / NHTSA 2017 NATIONAL DATA:
• In 2017, 10,874 people were killed as a result of alcohol-related (BAC > 0.08) car crashes, a decrease of 1.1% from the 10,996 fatalities in 2016.
• Many, if not most of those lives would have been saved if people did not drive when they were impaired by alcohol or if they used sober, designated drivers or if they simply wore their seat belts.
• Statistics and research clearly show that 21-34 year old males are the demographic most likely to be involved in an automobile crash, drive when impaired by alcohol, and fail to buckle up.