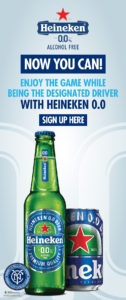 HEINEKEN USA joined Techniques for Effective Alcohol Management (TEAM) Coalition, an alliance that promotes responsible drinking and positive fan behavior at sports and entertainment facilities, in 2019. TEAM Coalition provides employee training in effective alcohol management to more than 50,000 employees of stadiums, arenas and performing arts centers each year. TEAM also manages the Responsibility Has Its Rewards campaign which encourages sports and entertainment guests to have a plan and prevent drunk driving, which may include taking Lyft, being a designated driver, having a designated driver or using public transportation. Since 2014, the annual count of sports fans and concert goers participating in responsible fan programs has exceeded 1 million.
HEINEKEN USA's membership expands the reach of the responsibility message and engages more guests of sports and entertainment events in the responsible fan program. Heineken® 0.0 highlights the choice available to responsible drinkers to alternate drinks with the 0.0% alcohol. The position of Heineken® as the official beer sponsor of MLS as well as several MLS teams and other sports franchises, including the NHL New Jersey Devils, offers a multitude of opportunities to educate responsible drinkers about Heineken 0.0.
TEAM Coalition is an alliance of 23 organizations, including professional and collegiate sports, entertainment facilities, concessionaires, stadium service providers, the beer industry, broadcasters, governmental traffic safety experts and others. Its members are united by a shared mission to enhance the entertainment experience, provide effective alcohol management training in public assembly facilities and promote responsible alcohol consumption through the use of positive messages that reward responsible behavior and help to reduce negative alcohol-related incidents both in facilities and on surrounding roadways, recognizing that the vast majority of fans are responsible.