SEPTEMBER 2021 NEWSLETTER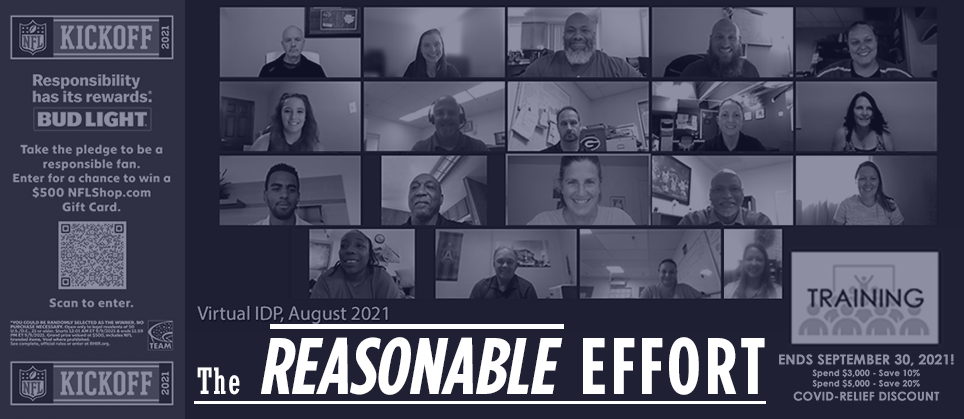 Best Practices on Display
Kicking Off the 2021 NFL Season with Responsibility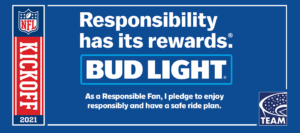 The NFL Kickoff Experience on September 9, 2021, at Julian B. Lane Riverfront Park in Tampa, FL gave TEAM a first-time opportunity to infuse responsibility into the celebration to start the season. The game was an historic match-up as the Super Bowl champion Tampa Bay Buccaneers hosted the Dallas Cowboys. The Bucs won the game by kicking a walk-off field goal with 0:02 seconds left on the clock.
More than 30,000 fans enjoyed the Kickoff Experience that included a concert by Ed Sheeran. The Bud Light tailgate zone offered fans a Responsibility Has Its Rewards (RHIR) sweepstakes. Fans who shared their safe ride plan were entered for a chance to win a $500 NFLShop.com gift card.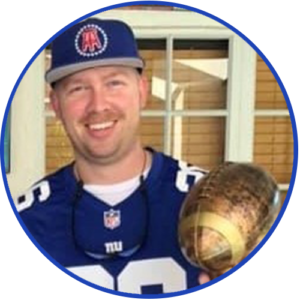 50% of the fans who pledged were in the target demographic age range – between 21 and 35. Of those, 80% said ride share was their safe ride plan option of choice.
Congratulations to the Responsibility Has Its Rewards sweepstakes winner – Jeffrey Storoniak Jr. of Trinity, FL.
"TEAM has helped me instill confidence in my staff to ensure proper safety protocols are met with alcohol consumption! In our day to day, I have faith in my staff to ensure a good and responsible time is had by all."
— Rachel Lewis 
Director of Operations
Aramark, The Florida Aquarium
RACHEL LEWIS
Director of Operations
Aramark, The Florida Aquarium
Rachel Lewis is the Director of Operations for Aramark at The Florida Aquarium in Tampa, Florida. Since 2014, Rachel has trained over 175 employees at prestigious venues like Capital One Arena, JetBlue Park and Fenway Park. Her experience at many different types of venues is why she is a great asset to be a TEAM Master Trainer. Rachel became a Master Trainer in 2021
Board of Director News: September 2021
September 1, 2021 financials:

More than $95,000 in accounts receivable payments received in August
FYTD 70 customers have purchased online training for 23,418 employees
FYTD 13,062 manuals have been purchased
FYTD Net Income of $293,000

Preparation for FY 2021 Annual Report- Fiscal year ends 9/30/2021
TEAM Coalition is in the process of hiring an Event Coordinator
December stakeholders meeting will be virtual, dates TBD
Search has begun for a new Director-at-Large to fill Rishi Nigam's position when his term ends in December 2021.  Nominations are being collected to fill the position. Anyone interested in nominating a candidate or serving as Director at Large should email Jill Kiefer (jill@teamcoalition.org).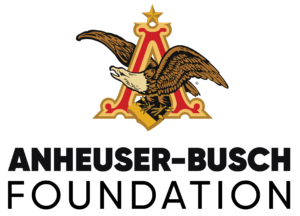 Global (Be)er Responsible Day September 14, 2021
Training
Marketing & Communications
Governance & Finance
Membership
Stay Connected with TEAM Coalition