02/07/2017
TEAM Coalition started a partnership with Southern Illinois University after the two organizations connected at the 2016 APPLE Training Institute. SIU embraced all the concepts that TEAM Coalition presented at the annual conference on how to engage an audience in alcohol responsibility efforts. The Salukis used a Choices Grant to launch the campaign #SalukisPartySmarter. All the creative elements for the campaign communicate "Positive Paw Pressure." Southern Illinois University has done an incredible job promoting responsible choices. The video below is proof of their creative ways to influence positive behavior.
The partnership with TEAM Coalition started with an autograph wall and souvenir photos at football game tailgate parties in the fall of 2016.
SIU captured behavioral data when it comes to drinking from the 700 individuals who participated in the tailgate activations. The results from that data collection generated the messages for social norming posters marketed in a variety of ways across campus and online.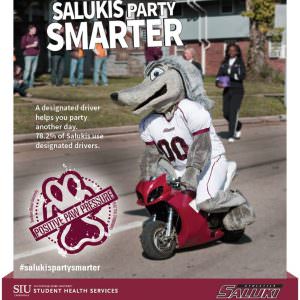 Finally, the Salukis offered a video competition with prizes for the first, second and third place entries – a 32″ LED Smart TV, Beats Headphones and Garmin Vivofit fitness band, respectively. Take a look at a couple of the amazing submissions.
US DOT / NHTSA 2014 NATIONAL DATA:
• In 2014, 9,967 people were killed as a result of alcohol-related (BAC > 0.08) car crashes, a decrease of 1.1% from the 10,076 fatalities in 2013.
• Many, if not most of those lives would have been saved if people did not drive when they were impaired by alcohol or if they used sober, designated drivers or if they simply wore their seat belts.
• Statistics and research clearly show that 21-34 year old males are the demographic most likely to be involved in an automobile crash, drive when impaired by alcohol, and fail to buckle up.