07/15/2019
Major League Baseball (MLB), the Cleveland Indians, Budweiser and TEAM Coalition joined forces to encourage fans to be responsible and respect others while attending MLB All-Star activities July 5-9, 2019. Responsibility Has Its Rewards is a MLB league-wide sweepstakes which awards one randomly–selected individual who pledged to drink responsibly with a trip to the All-Star Game presented by Mastercard. This year's winner was Mike Whaley, a responsible fan from Taylorsville, Kentucky, who was randomly selected as the Cincinnati Reds Responsible Fan for the Season at the end of the 2018 season. Last night, Mr. Whaley was recognized during the pre-game festivities that included a lap around the warning track of Progressive Field by the iconic Budweiser Clydesdales before the MidSummer Classic.
Mr. Whaley attended the Gatorade All-Star Workout Day, featuring the T-Mobile Home Run Derby, and the 90th All-Star Game with his guest. Mike served as a representative of the 570,000 MLB fans last season who pledged to be responsible by having a safe ride plan and prevent drunk driving.
| | | | |
| --- | --- | --- | --- |
| July 5 – 6:  Families | July 5 – 6, 2019:  Adults | July 7, 2019:  Families | July 7, 2019:  Adults |
| July 8, 2019:  Families | July 8, 2019:  Adults | July 9, 2019:  Families | July 9, 2019:  Adults |
Through the Budweiser Responsible Fan program and the TEAM Coalition Responsibility Has Its Rewards (RHIR) sweepstakes, nearly 4,200 baseball fans 21 and over pledged to enjoy responsibly and have a safe ride plan during MLB All-Star Week.
Budweiser's Responsible Fan program encourages fans of legal drinking age to drink responsibly and always have a plan to get to and from the game safely – whether that's using a ride share service, a designated driver, or public transportation. Anheuser-Busch founded the program in 1986, and there are now more than 100 professional sports teams and venues participating each year.
More than 1,200 fans visited the Budweiser Responsibility Has Its Rewards kiosk inside Progressive Field during the weekend's festivities, where they took the pledge to enjoy responsibly and plan ahead for a safe ride. 2,981 adult fans who visited MLB All-Star Play Ball Park at the Huntington Convention Center pledged to be responsible, receiving a souvenir photo displaying the responsibility message along with All-Star images and adding their autographs to a wall of signatures of responsible fans. And more than 400 families made the responsibility pledge to buckle up, every trip, every time. Each day, one lucky and responsible fan was rewarded with an autographed baseball, complements of MLB and Budweiser.

For the 16th consecutive season, MLB, Techniques for Effective Alcohol Management (TEAM) Coalition and Budweiser have partnered to make fans aware of the responsibility programs offered at MLB ballparks. These programs and the "Responsibility Has Its Rewards" sweepstakes promote positive fan behavior by encouraging responsible drinking and safe ride plans.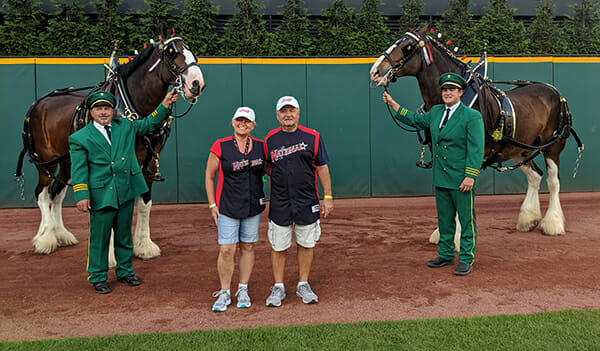 Anheuser-Busch and its wholesalers promote responsible drinking among baseball fans by implementing Budweiser Responsible Fan programs with 19 MLB ballparks throughout the season. Anheuser-Busch is an official sponsor of Major League Baseball.
The safety of our fans is a serious focus all season long and the Budweiser Responsible Fan Program helps us increase fans' social responsibility at and around our ballparks. Along with Budweiser and TEAM Coalition, we are proud to reward some of the fans who have vowed to make sure their family, friends and fellow fans arrive home safely. I am sure they will enjoy this special All-Star experience.
John Skinner, Vice President of Security & Facility Management, Major League Baseball
Our colleagues take great pride in promoting responsible drinking, as we have done for more than 35 years. The Responsibility Has Its Rewards program is a great way to remind fans to both enjoy responsibly and have a safe ride plan.Our partnership with Major League Baseball, TEAM and the great fans at Progressive Field showcases our collective mission to ensure that every experience with one of our beers is a positive one.
Adam Warrington, Vice President, CSR-Better World, Anheuser-Busch
The success of the Responsibility Has Its Rewards campaign with Major League Baseball and Budweiser is a direct result of the commitment from the League, the MLB Clubs and all the campaign partners. Teamwork is what this campaign is all about. It is proof that when everyone – including the fans – takes responsibility, everyone wins.
Jill Pepper, Executive Director, TEAM Coalition