08/04/2014

Responsible Race Fans Rewarded at
Pocono Raceway
Budweiser and TEAM Coalition Partner to Promote Responsibility at Track
For Immediate Release
Contacts: Jill Pepper, TEAM Coalition – 202-669-0357, jill@teamcoalition.org
Kevin Heaney, Pocono Raceway – 570-646-2300, kheaney@poconoraceway.com
Long Pong, PA. (8/4/2014) Responsible race fans earned valuable rewards at Sunday's GoBowling.com 400 at Pocono Raceway. The track, Budweiser and Techniques for Effective Alcohol Management (TEAM) Coalition partnered to promote responsible drinking and traffic safety at Pocono Raceway.
123 fans made the pledge to be a Good Sport – the designated driver for their group. Program participation nearly doubled from the June race. All of the designated drivers received a free souvenir photo, instant prizes and a chance to be selected as the Designated Driver for the race. One randomly selected, responsible fan will win the Responsibility Has Its Rewards sweepstakes. The grand prize includes two tickets and two VIP experiences to the next NASCAR Sprint Cup Series™ race at Pocono Raceway.
The Designated Driver for the Race from the June 8, 2014 NASCAR Sprint Cup Series™ race at Pocono Raceway, Liz Whitman, received her Responsibility Has Its Rewards sweepstakes price on Sunday – two tickets and a VIP behind-the-scenes experience before the race on Sunday.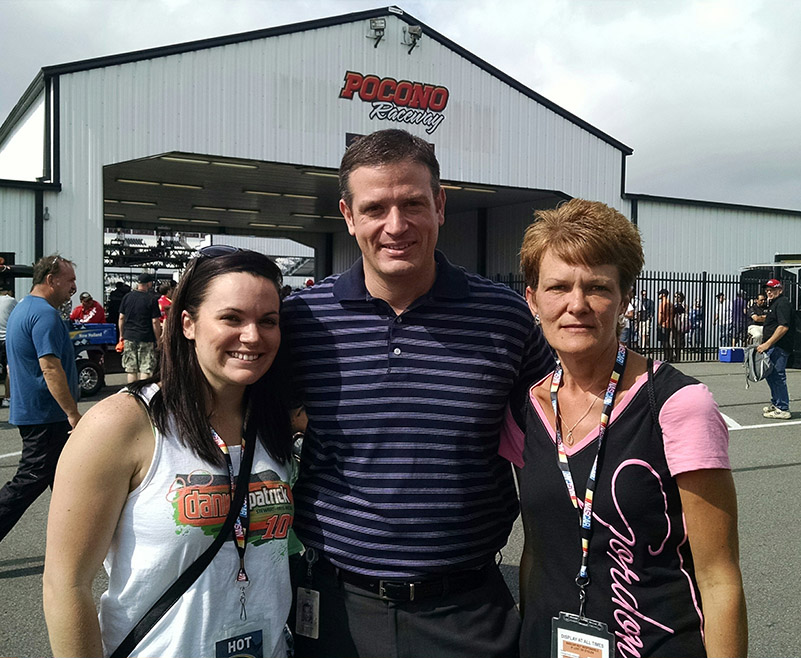 (left to right) Liz Whitman, Pocono Raceway Designated driver for the Race; Jordan Jiloty, NASCAR Director of Public Affairs; Janet Gordon, guest of winner"The safety of our fans is a top priority," said Brandon Igdalsky, Pocono Raceway President/CEO. "We consider all race fans who visit 'The Tricky Triangle' as members of our extended Raceway Family. While they all hold a special place in our heart, we are especially proud of all the fans who pledged to be designated drivers today. We thank them for being responsible and for helping to get our 'family' members home safely after a great day at the track."
"Anheuser-Busch has led our industry in promoting responsible drinking for more than 30 years and Budweiser Good Sport is one of our most visible programs, which reminds fans who choose to drink, to do so responsibly and get their friends home safely," said Kathy Casso, vice president, Corporate Social Responsibility at Anheuser-Busch. "We all share the same streets after the race. This partnership with Pocono Raceway, TEAM and the fans displays our collective responsibility to help keep our roads safe."
"The success of the Responsibility Has Its Rewards campaign is a direct result of the commitment from our members and all the designated-driver program partners, including the tracks, beer companies and state offices of highway safety," said Jill Pepper, executive director of TEAM Coalition. "Teamwork is what this campaign is all about. We are demonstrating that when everyone – including the fans – takes responsibility, everyone wins."
About Pocono Raceway
Pocono Raceway, also known as "The Tricky Triangle," is family-owned and situated in the beautiful Pocono Mountains of Pennsylvania. In business for over 50 years, the Raceway hosts multiple, national motorsports events including two NASCAR Sprint Cup Series, one Verizon IndyCar Series, one NASCAR Camping World Truck Series, two ARCA Racing Series presented by Menards and one Indy Lights Series presented by Cooper Tires events each year. The Raceway has added multiple running series events to their annual schedule including the Tough Mudder and the Warrior Dash. Pocono Raceway is the world's largest solar-powered sports facility with a 25-acre, three-megawatt solar farm providing the energy needs of the Raceway, as well as, adding electricity to the local power grid. For more information, please visit www.PoconoRaceway.com.
About Anheuser-Busch
For more than three decades, Anheuser-Busch and its nationwide network of wholesalers have invested more than $1 billion in national advertising campaigns and community-based programs to promote responsible drinking, prevent underage drinking and drunk driving and address college issues. For more information on these alcohol responsibility efforts and the progress being made, visit www.Anheuser-Busch.com.
About TEAM Coalition
TEAM Coalition is an alliance of professional and collegiate sports, entertainment facilities, concessionaires, stadium service providers, the beer industry, distillers, broadcasters, governmental traffic safety experts, and others working together to promote responsible drinking and positive fan behavior at sports and entertainment facilities. TEAM's members and supporters include NASCAR, Major League Baseball, Major League Soccer, the National Basketball Association, the National Football League, the National Hockey League, the National Collegiate Athletic Association, Aramark, Delaware North Companies Sportservice, Ovations Food Services, Beer Institute, National Beer Wholesalers Association, Anheuser-Busch, MillerCoors, Brown-Forman, Live Nation, National Association of Broadcasters, Contemporary Services Corporation, Elite, International Association of Venue Managers, Stadium Managers Association and the National Highway Traffic Safety Administration.
For more information, go to TEAMCoalition.org, FansDontLetFansDriveDrunk.org or ResponsibilityHasItsRewards.org.