01/29/2022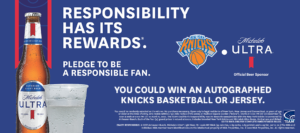 The New York Knicks, Michelob Ultra and TEAM have partnered to support the responsible fan program at Madison Square Garden by offering basketball fans the Responsibility Has Its Rewards Sweepstakes.
And the New York Rangers, Bud Light and TEAM are offering the Responsibility Has Its Rewards sweepstakes for hockey fans.
Fans of legal drinking age who complete the digital pledge are entered for a the chance to win a monthly prize. For Knicks responsible fans, the grand prize is an autographed Knicks basketball or jersey. For Rangers responsible fans, the grand prize is an autographed Rangers hockey stick.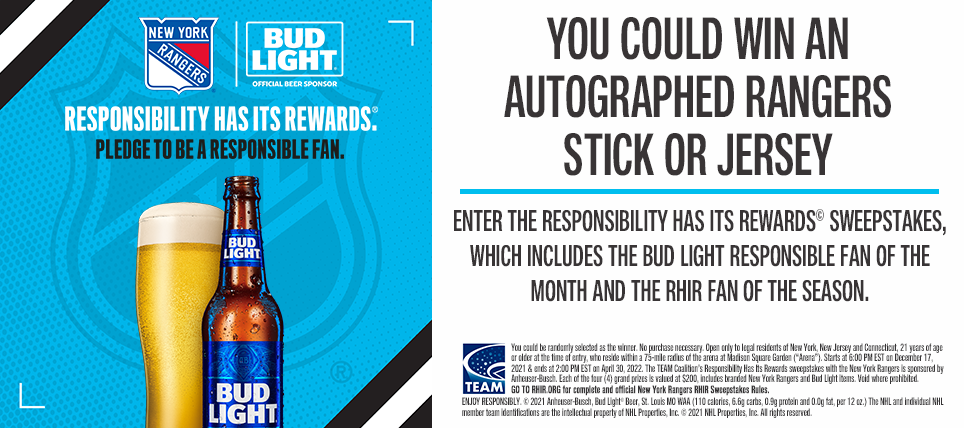 Fans are asked to provide their responsibility plan:
Madison Square Garden is advertising both sweepstakes with digital and printed assets. 
The success of the Responsibility Has Its Rewards campaign with the NBA and the NHL is a direct result of the commitment from the leagues, the teams, sponsors, concessionaires and all the campaign partners. Teamwork is what this campaign is all about. We are demonstrating that when everyone – including the fans – takes responsibility, everyone wins.
Jill Kiefer, Executive Director, TEAM Coalition
US DOT / NHTSA 2019 NATIONAL DATA:
In 2019, 10,142 people were killed as a result of alcohol-related (BAC > 0.08) car crashes, a decrease of 5.3% from the 10,710 fatalities in 2018.
Many, if not most of those lives would have been saved if people did not drive when they were impaired by alcohol or if they used sober, designated drivers or if they simply wore their seat belts.
Statistics and research clearly show that 21-34 year old males are the demographic most likely to be involved in an automobile crash, drive when impaired by alcohol and fail to buckle up.