01/19/2021
TEAM Coalition members and strategic partners are unified by a collective mission. This holiday season Lyft and the Governors Highway Safety Association (GHSA) exemplified this mission by working together for the third year to promote responsible alcohol consumption.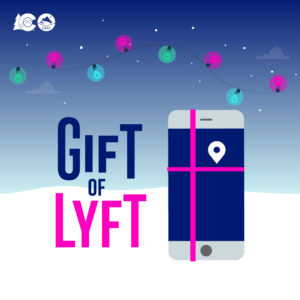 The two organizations provided about $100,000 in grants and Lyft ride credits to State Highway Safety Offices to promote responsibility at the local level during the holiday season. The following state highway safety offices received these grants: Colorado, Illinois, New Mexico, North Carolina, and Texas.
The innovative state-led programs maintain the goal of reducing impaired road use while promoting traffic safety within their communities. Individuals are encouraged to use ride-share services, such as Lyft, rather than risk the lives of others or themselves on the road. Read more about the local initiatives taken through the grant and ride-share credits from GHSA and Lyft.
Lyft is dedicated to providing access to reliable and responsible rides, and we were proud to partner with the Governors Highway Safety Association to offer Lyft as an alternative to impaired driving. Through our Health Safety Program and our partnership with the GHSA, we hoped to empower our community with the tools to protect themselves and those around them during the holiday season.
Jennifer Brandenburger, Director of Public Policy for Community Safety at Lyft
With impaired drivers responsible for a third of motor vehicle deaths annually in the U.S. and the unexpected uptick in unsafe motorist behaviors during the pandemic, working collaboratively is more important than ever. Our partnership with Lyft means that state highway safety offices not only have grant funds to help them promote the dangers of driving after consuming an impairing substance, but also ride-credits that make using a ride-hailing service an even better alternative to getting behind the wheel. We're certain it is making our roads safer for all users.
Jonathan Adkins, GHSA Executive Director
The success of TEAM Coalition is a direct result of the commitment from our member organizations, the companies serving alcohol, the facilities hosting events, the organizations promoting messages of responsibility and guests who participate in responsible fan programs. Teamwork is what this organization is all about. We are demonstrating that when everyone – including the fans – takes responsibility, everyone wins.
Jill Kiefer, Executive Director, TEAM Coalition
US DOT / NHTSA 2019 NATIONAL DATA:
In 2019, 10,142 people were killed as a result of alcohol-related (BAC > 0.08) car crashes, a decrease of 5.3% from the 10,710 fatalities in 2018.
Many, if not most of those lives would have been saved if people did not drive when they were impaired by alcohol or if they used sober, designated drivers or if they simply wore their seat belts.
Statistics and research clearly show that 21-34 year old males are the demographic most likely to be involved in an automobile crash, drive when impaired by alcohol and fail to buckle up.