06/29/2021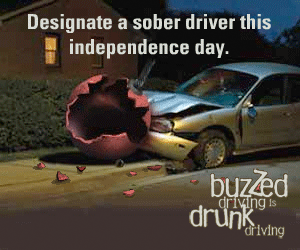 However your celebrations may look this year, make sure you celebrate the birth of our nation safely. This Independence Day, TEAM Coalition and the U.S. Department of Transportation's National Highway Traffic Safety Administration (NHTSA) want to remind drivers that if you plan to drink, it's essential that you plan for a sober designated driver. If you are under the influence of alcohol and you choose to get behind the wheel of a vehicle, you put everyone on the road in danger, including yourself. During the 4th of July holiday, make sure you plan ahead for a safe weekend of festivities.
According to NHTSA, 10,142 people were killed in motor vehicle crashes in 2019 that involved an alcohol-impaired driver. With 4th of July festivities wrapping up in the evening or late at night, more cars will be on the roads at night. In 2019, 515 people died in motor vehicle traffic crashes over the July 4th holiday period (6 p.m. July 3 to 5:59 a.m. July 8). 38% (198) of those fatalities occurred in alcohol-impaired-driving crashes.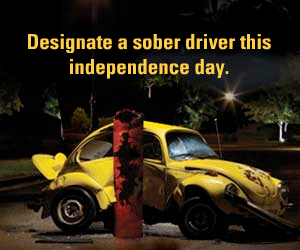 From 2015 to 2019, there were 1,339 people killed in drunk-driving crashes over the 4th of July holiday period. 38% (512) of the drivers killed were alcohol-impaired (BAC of .08+). During the 2019 July 4th holiday period, 69% of those who died in alcohol-impaired crashes were in a crash involving at least one driver or motorcycle operator with a blood alcohol concentration (BAC) at or above .15. Nighttime hours are especially dangerous: Over the 2019 July 4th holiday period, of the 198 people who died in alcohol-impaired motor vehicle traffic crashes, almost 4 out of 5 (79%) of them occurred in nighttime crashes (6 p.m.–5:59 a.m.).
Party with a Plan
This 4th of July, TEAM Coalition and NHTSA urge drivers to designate a sober driver before heading out for the evening. If you plan on drinking, plan how you will get around without driving.
Remember that it is never okay to drink and drive. Designate a sober driver or plan to use public transportation or a ride service to get home safely.
If available, use your community's Sober Ride program.
If you see a drunk driver on the road, contact your Local Law Enforcement.
Do you have a friend who has been drinking and is about to drive? Take the keys away and make arrangements to get your friend home safely.
Click here for more information on the dangers of drunk driving.
We understand people are looking for a reason to celebrate, and we want our community members to enjoy the 4th of July, but we also want to impress upon everyone the importance of safe driving. If you've been drinking, make the right choice to find a sober driver to get you, and your friends, home safely.
Jill Kiefer, Executive Director, TEAM Coalition
US DOT / NHTSA 2019 NATIONAL DATA:
In 2019, 10,142 people were killed as a result of alcohol-related (BAC > 0.08) car crashes, a decrease of 5.3% from the 10,710 fatalities in 2018.
Many, if not most of those lives would have been saved if people did not drive when they were impaired by alcohol or if they used sober, designated drivers or if they simply wore their seat belts.
Statistics and research clearly show that 21-34 year old males are the demographic most likely to be involved in an automobile crash, drive when impaired by alcohol and fail to buckle up.