04/12/2021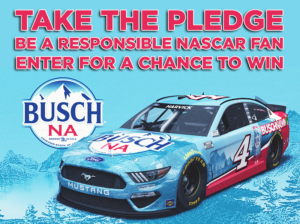 NASCAR fans are racing over to BUSCHNA.WIN to take the responsible fan pledge. For the Blue-Emu Maximum Pain Relief 500 at Martinsville Speedway  on Saturday 4/10/21, Kevin Harvick's #4 Ford was specially painted with Busch NA for the race as a reminder to all NASCAR fans that Responsibility Has Its Rewards. Busch NA and TEAM Coalition partnered to reward NASCAR fans for being responsible with the chance to win a Kevin Harvick autographed 2021 #4 diecast replica car.
The Responsibility Has Its Rewards Sweepstakes runs from 4/8/2021 to 4/13/2021 for fans 21+. Read more on the sweepstakes rules.
Fans are asked to provide their responsibility plan:
Use a Designated Driver
Request a rideshare
Be a Designated Driver
Take Public Transportation
Social media posts sparked registrations for the sweepstakes. Stewart-Haas Racing tweeted on Thursday 4/8/2021. A few minutes later, Busch Beer re-tweeted. And then the registrations started rolling in. Additional tweets and Facebook posts on Saturday provided a boost to the registration count. Over 2,000 fans have made the pledge as of 4/12/2021.
The RHIR winner will be selected on Wednesday 4/14/2021. And the prize will be fulfilled as soon as the diecast replica car is produced.
The success of TEAM Coalition is a direct result of the commitment from our member leagues, teams, stadiums, brewers and guests who participate in responsible fan programs. Teamwork is what this organization is all about. We are demonstrating that when everyone – including the fans – takes responsibility, everyone wins.
Jill Kiefer, Executive Director, TEAM Coalition
US DOT / NHTSA 2019 NATIONAL DATA:
In 2019, 10,142 people were killed as a result of alcohol-related (BAC > 0.08) car crashes, a decrease of 5.3% from the 10,710 fatalities in 2018.
Many, if not most of those lives would have been saved if people did not drive when they were impaired by alcohol or if they used sober, designated drivers or if they simply wore their seat belts.
Statistics and research clearly show that 21-34 year old males are the demographic most likely to be involved in an automobile crash, drive when impaired by alcohol and fail to buckle up.