01/30/2017
The NHL® teamed with Coors Light (the official beer of the NHL) and TEAM Coalition to promote responsible drinking at the 2017 NHL Fan Fair™, 2017 Coors Light Skills Competition™ and the 2017 Honda NHL® All-Star Game in Los Angeles on January 26, 27, 28 and 29, 2017. While the NHL® All-Stars displayed their amazing skills on the ice, 1,449 NHL® fans scored a responsibility hat trick off the ice, making the pledge to never drive drunk, always have a designated driver, and never provide alcohol to anyone under 21.
Brian Fox, the Boston Bruins® Designated Driver for the Season, earned the grand prize of the Responsibility Has It Rewards sweepstakes by pledging to be a designated driver at a Bruins® home game at TD Garden during the 2015-2016 regular season. Fox's pledge was selected from a random drawing. Fox and his guest received a trip to the 2017 NHL All-Star Weekend™ including airfare, hotel accommodations and tickets to the 2017 Honda NHL® All-Star Game.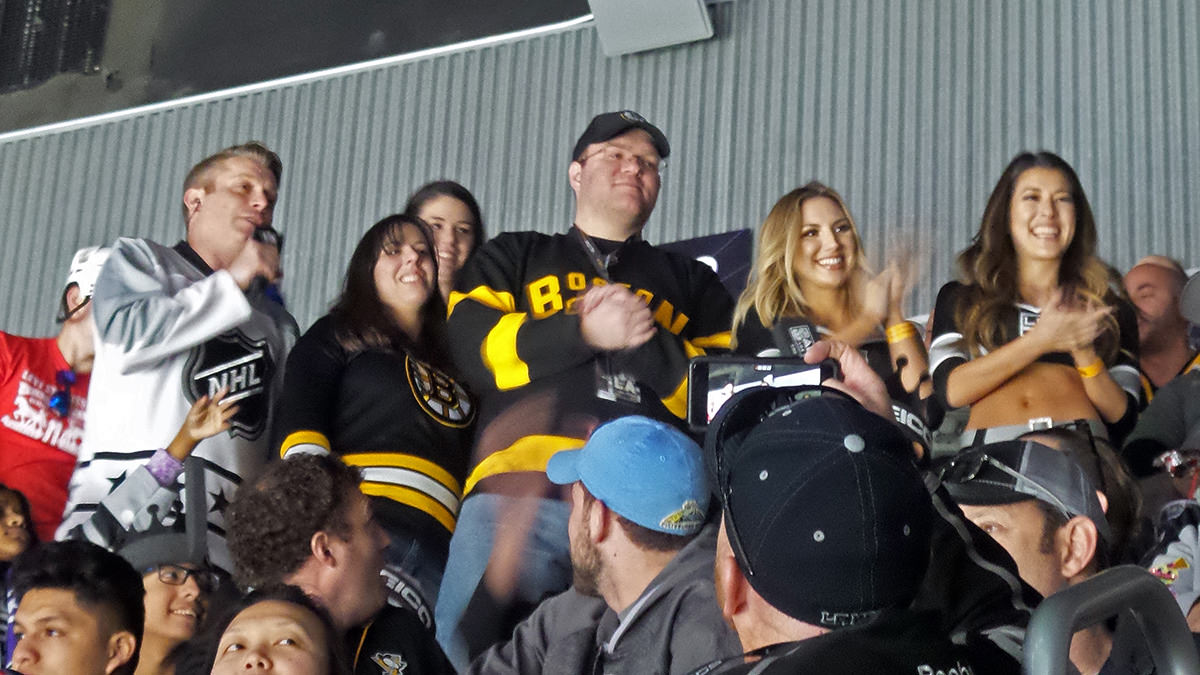 At the 2017 NHL Fan Fair™ in the Los Angeles Convention Center, NHL® fans had the opportunity to add their names to the Responsibility Puck – an 8-foot replica of an official NHL® puck – to demonstrate their commitment to keeping the penalties on the ice and off the roads.  All the responsible fans received a souvenir photo and were entered for a chance to win an NHL® prize pack including a $50 Shop.NHL.com gift card and branded items from Coors Light and TEAM Coalition.

Thanks to the more than 111,000 NHL fans who pledged to be responsible last season and congratulations to Brian. We are thrilled that you have proven, once again, that responsibility really does have its rewards.

We believe that with great beer comes great responsibility, and we're thrilled to partner with the NHL and TEAM Coalition to help promote responsibility at hockey events. For many legal drinking age fans, enjoying a beer at the game is part of the hockey experience, and we want to encourage fans to enjoy the game responsibly and plan ahead for a safe ride home.

Diane Wagner, Responsibility Commerce Manager for MillerCoors

The success of the Responsibility Has Its Rewards campaign is a direct result of the commitment from our members and all the responsibility program partners, including the leagues, venues, brewers and beer distributors. Teamwork is what this campaign is all about. We are demonstrating that when everyone – including the fans – takes responsibility, everyone wins.

Jill Pepper, Executive Director, TEAM Coalition
US DOT / NHTSA 2015 NATIONAL DATA:
• 10,265 people were killed as a result of alcohol-related (BAC > 0.08) car crashes, an increase of 3.2% from the 9,943 fatalities in 2014.
• Many, if not most of those lives would have been saved if people did not drive when they were impaired by alcohol or if they used sober, designated drivers or if they simply wore their seat belts.
• Statistics and research clearly show that 21-34 year old males are the demographic most likely to be involved in an automobile crash, drive when impaired by alcohol, and fail to buckle up.