12/10/2016
Seattle Sounders FC and Toronto FC provided a grand finale to the Major League Soccer season at the 2016 MLS Cup™ on Saturday December 10,2016, and two supporters and their guests enjoyed the experience up close as the winners of the "Responsibility Has Its Rewards" sweepstakes.
Jen Wisemore from Bothell, WA, the Seattle Sounders FC Designated Driver for the Season and Ian Kane, a supporter from Keswick, ON representing Toronto FC, were randomly selected as the grand prize winners of the "Responsibility Has Its Rewards" sweepstakes. The sweepstakes is in its twelfth season, provided by TEAM Coalition with support from Major League Soccer and HEINEKEN USA.  It continues to succeed in raising awareness for the designated driver programs offered by MLS clubs.
Both winners and their guests attended the 2016 MLS Cup™ at BMO Field, home of Toronto FC. Before kickoff, they took part in an on-field recognition saluting Wisemore, Kane and the 34,218 other supporters who pledged to be designated drivers at MLS games throughout the 2016 season, ensuring a safe ride home for their friends and family.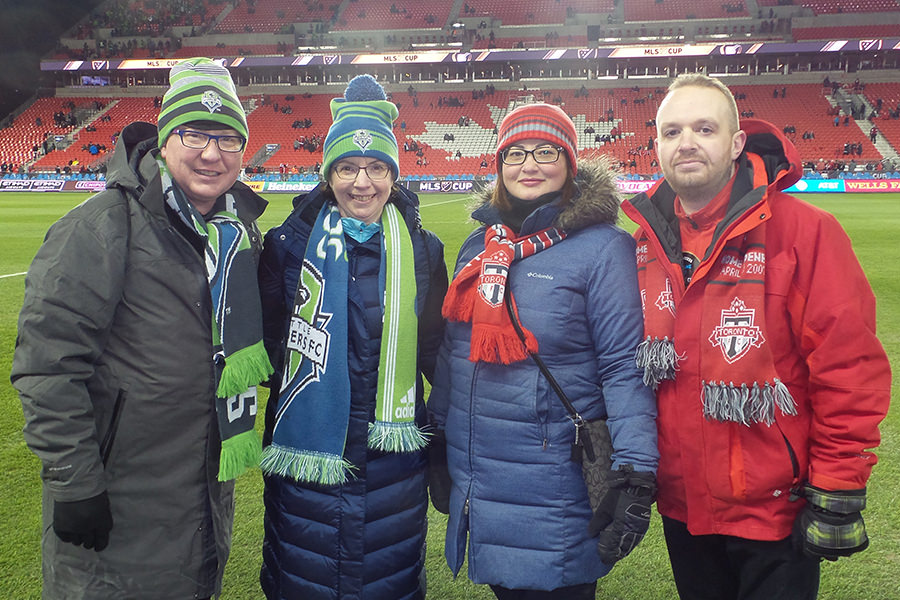 Major League Soccer is happy to support and continue to work alongside TEAM Coalition in support of the key objectives of improving the game day experience for all our guests, together with the extremely successful Responsibility Has Its Rewards and the Designated Driver programs. The work that TEAM continues to be involved in can only make our events safer and more secure for all attending and supporting soccer. We are privileged to be a partner with TEAM.
Ray Whitworth, Senior Vice President of Security & Operations with Major League Soccer and Chairman of TEAM Coalition
HEINEKEN USA is proud to be a member of TEAM Coalition and promote responsibility throughout the MLS season. The Responsibility Has Its Rewards program is an engaging way to support designated drivers in making responsible decisions. By working with TEAM Coalition and MLS, we support a fun and safe environment for our fans to enjoy the great game of soccer.
Tara Rush, SVP and Chief of Corporate Relations, HEINEKEN USA
The success of the Responsibility Has Its Rewards campaign with Major League Soccer and HEINEKEN USA is a direct result of the commitment from the League, the MLS clubs, sponsors, concessionaires and all the campaign partners. Teamwork is what this campaign is all about. We are demonstrating that when everyone – including the fans – takes responsibility, everyone wins.
Jill Pepper, Executive Director, TEAM Coalition
US DOT / NHTSA 2015 NATIONAL DATA:
• 10,265 people were killed as a result of alcohol-related (BAC > 0.08) car crashes, an increase of 3.2% from the 9,943 fatalities in 2014.
• Many, if not most of those lives would have been saved if people did not drive when they were impaired by alcohol or if they used sober, designated drivers or if they simply wore their seat belts.
• Statistics and research clearly show that 21-34 year old males are the demographic most likely to be involved in an automobile crash, drive when impaired by alcohol, and fail to buckle up.