AUGUST 2021 NEWSLETTER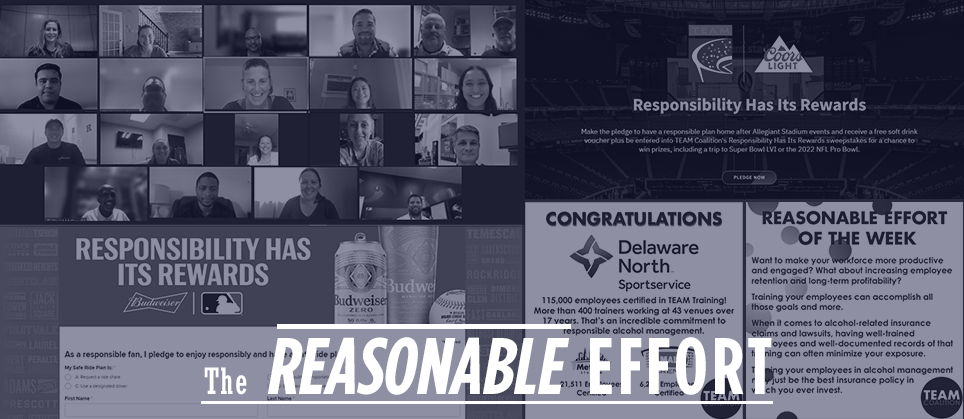 Best Practices on Display
TEAM Coalition Best Practices on Display
To mark the one-year anniversary of our rebranded newsletter, The Reasonable Effort, TEAM Coalition is sharing best practices and resources available to industry professionals on the TEAM Coalition website.
Reasonable Efforts are the critical components of a solid alcohol management program which encourage responsible fan behavior and mitigate risk for venue operators with respect to alcohol. You can also find a Reasonable Effort Of The Week (REOTW) on TEAM Coalition's social media.
TEAM Coalition Master Trainers are Subject Matter Experts from the sports and entertainment industry. Master Trainers lead training workshops, as they know the challenges you face at your facility and have innovative solutions to share.
Each state has unique state specific laws and information in regard to alcohol management. TEAM Coalition provides information on state laws including alcohol service regulations, mandatory server trainings, and dram shop laws.
The Responsibility Has Its Rewards campaign promotes traffic safety, positive fan behavior, responsible alcohol consumption, and the designated driver program at sports and entertainment facilities.
Fan's Don't Let Fans Drive Drunk highlights facilities commitments to alcohol responsibility and the fans who pledge to be responsible drinkers or designated drivers at professional sporting events are entered to win amazing prizes.
Any additional questions about TEAM Training or responsibility programming can be found on TEAM's FAQs page.
Past Best Practices on Display, Board of Directors Profiles, Master Trainer Spotlights, and Traffic Safety are also highlighted as resources for reference.
Training
Marketing & Communications
Governance & Finance
Membership
TEAM Board Member Profile:  Jeff Jannarone
"I want to be a "TEAM" player and bring my training, education, and experience to the organization to assist with the promotion of responsible drinking and positive fan behavior."

— Jeff Jannarone
Alcohol and Drug Investigations/Dram Shop Expert Managing Partner
Jannarone Consulting
Board of Director News: August 2021
TEAM Coalition saw an incredible employee – Brandon Johnson – move on to the next chapter of his career by joining the Guest Services staff at Capital One Arena (home of the Washington Wizards and Washington Capitals). We know Brandon will impress his new team as much as he impressed us. We will miss you, Brandon!
TEAM Coalition is in the process of hiring an Event Coordinator
August 1, 2021 financials:

More than $80,000 in accounts receivable payments for July
FYTD 66 customers have purchased online training for 18,500 employees
FYTD 9,000 manuals have been purchased

Preparation for the end of FY 2021 activities:

Closing accounting books and tax filing
Employee reviews
Annual Report preparation

FY 2022 budget and cash flow expectations have been added to monthly financials
Search has begun for a new Director-at-Large to fill Rishi Nigam's position when his term ends in December 2021
"TEAM has helped me to help countless guests at numerous events by ensuring they were consuming alcohol responsibly. When guests consume too much alcohol, not only is their experience impacted, but so is the experience of all other guests in their surroundings."
— Vicki Malko
Director of Events and Catering
Architects Golf Club
VICKI MALKO
Director of Events and Catering
Architects Golf Club
Vicki Malko is the former Assistant Director of Special Events at MetLife Stadium, where she ensured that fans coming to see the Giants, the Jets or Super Bowl XLVIII all had a positive experience. Vicki has certified more than 3,000 people since becoming a trainer in January 2012. She became a Master Trainer in April 2014.
Stay Connected with TEAM Coalition