03/05/2018
On March 3, 2018, Corona Extra and TEAM partnered to promote responsible drinking at Barclays Center in Brooklyn, NY. Three randomly selected Responsibility Has Its Rewards (RHIR) Sweepstakes prize winners each received an autographed boxing glove from the fight – (below) – compliments of TEAM Coalition and Corona Extra.
A lively 133 fans made the pledge to Relax Responsibly – never drive drunk and always have a designated driver.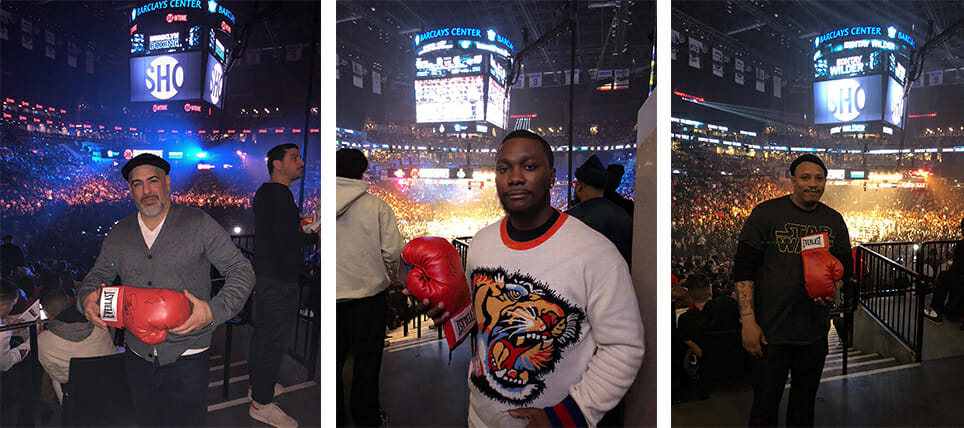 One randomly selected responsible fan will be the grand prize winner of the RHIR sweepstakes, winning a trip for two to the next major fight, including two tickets, hotel accommodations and airfare for two.
Constellation Brands is committed to promoting responsible drinking. We are thrilled to partner with an organization like TEAM that has a long history of success in both training venue employees and encouraging responsible fan behavior.
Jim Ryan, Senior Vice President, Corporate Affairs, Constellation Brands Beer Division
The success of TEAM Coalition is a direct result of the commitment from our member organizations, the companies which promote messages of responsibility and guests who participate in responsibility programs. Teamwork is what this organization is all about. We are demonstrating that when everyone – including the fans – takes responsibility, everyone wins.
Jill Pepper, Executive Director, TEAM Coalition
US DOT / NHTSA 2016 NATIONAL DATA:
•In 2016, 10,497 people were killed as a result of alcohol-related (BAC > 0.08) car crashes, an increase of 1.7% from the 10,265 fatalities in 2015.
• Many, if not most of those lives would have been saved if people did not drive when they were impaired by alcohol or if they used sober, designated drivers or if they simply wore their seat belts.
• Statistics and research clearly show that 21-34 year old males are the demographic most likely to be involved in an automobile crash.