12/16/2021
The 2021 Major League Soccer (MLS) season ended with a thrilling MLS Cup™ in front of an excited crowd that cheered on as the New York City FC won its first MLS Cup on Saturday December 11, 2021. New York City FC and Portland Timbers squared off for the MLS Cup title at Providence Park. A lucky and responsible fan representing NYCFC was at the game as the grand prize winners of the "Responsibility Has Its Rewards" sweepstakes.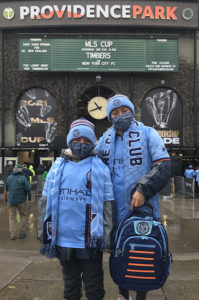 Carmela Miranda, NYC FC Responsible Fan for the Season from Mamaroneck, New York, was selected from 1,220 NYCFC fans who made the pledge during the regular season. She became the grand prize winner of the "Responsibility Has Its Rewards" sweepstakes once NYC FC qualified for MLS Cup with the semi-final win over Philadelphia Union.
NYC FC partnered with Heineken 0.0 and FanUp to promote the designated driver program at Yankee Stadium during the season. Fans – over 21 – completed the online registration and received a complimentary Heineken 0.0. They were also entered to win a signed limited edition scarf.
The Responsibility Has Its Rewards sweepstakes is in its 16th season, provided by TEAM Coalition with support from Major League Soccer and HEINEKEN USA.  It continues to succeed in raising awareness for the designated driver and responsible fan programs offered by MLS clubs.
Supporting TEAM Coalition is a no-brainer for Major League Soccer. Alcohol management is an important part of our league security plan and the security plans of all 27 Clubs. TEAM Coalition's training program and the Responsibility Has Its Rewards program make our events safer and more secure for all attending and supporting soccer, thereby improving the game day experience for all our guests.
Jeff Stonebreaker, Vice President of Operations & Security with Major League Soccer
The success of the Responsibility Has Its Rewards campaign with Major League Soccer is a direct result of the commitment from the League, the MLS clubs, sponsors, concessionaires and all the campaign partners. Teamwork is what this campaign is all about. We are demonstrating that when everyone – including the fans – takes responsibility, everyone wins.
Jill Kiefer, Executive Director, TEAM Coalition
US DOT / NHTSA 2019 NATIONAL DATA:
In 2019, 10,142 people were killed as a result of alcohol-related (BAC > 0.08) car crashes, a decrease of 5.3% from the 10,710 fatalities in 2018.
Many, if not most of those lives would have been saved if people did not drive when they were impaired by alcohol or if they used sober, designated drivers or if they simply wore their seat belts.
Statistics and research clearly show that 21-34 year old males are the demographic most likely to be involved in an automobile crash, drive when impaired by alcohol and fail to buckle up.
[/su_row]